If you're looking for skip bin hire in Jindalee, look no further than 4 Waste Walk-In Waste Bins. 4 Waste offers more than 20 years of experience in the rubbish collection industry and offers quality services to handle all of your residential rubbish collection needs.
We have a wide range of bins available for hire, and we're sure to have a skip bin that's perfect for your needs. We offer competitive prices, and our team is always on hand to answer any questions you may have. Our skip bin hire in Jindalee can assist with household junk removal – old furniture, appliances, sporting goods, and so on – or with green waste removal, done right. We offer purpose-built skip bins that are easier to load than other skip bins in Jindalee and provide better value for money than any other skip bins in the area.
Whether you reside in Jindalee or one of the neighbouring Brisbane Southside suburbs of Mount Ommaney or Sinnamon Park pick up the phone and dial 0413 333 330 to secure your skip bin hire in Jindalee today.
So if you're ready to get rid of your junk, give us a call today! Contact us today to find out more about our skip bin hire services in Jindalee.
Jindalee's BEST Skip Bins:
4 Waste's skip bins are the best in Jindalee! Our skip bins are designed for easy walk-in access, making them more convenient and accessible than our competitors. We provide a skip bin hire service that is reliable and efficient, and our skip bins are perfect for household rubbish removal.
Skip bin hire in Jindalee is made easy with our skip bins, which have a full-swing rear access door. This makes them ideal for removing large and heavy items, as you don't have to lift them into the skip. You can simply roll a trolly or wheelbarrow right into the skip for easy, straightforward loading. Furthermore, our skip bins are compliant with council regulations, so you can be assured that you're hiring a skip bin that meets all the required standards.
Why Hire a Skip from 4 Waste?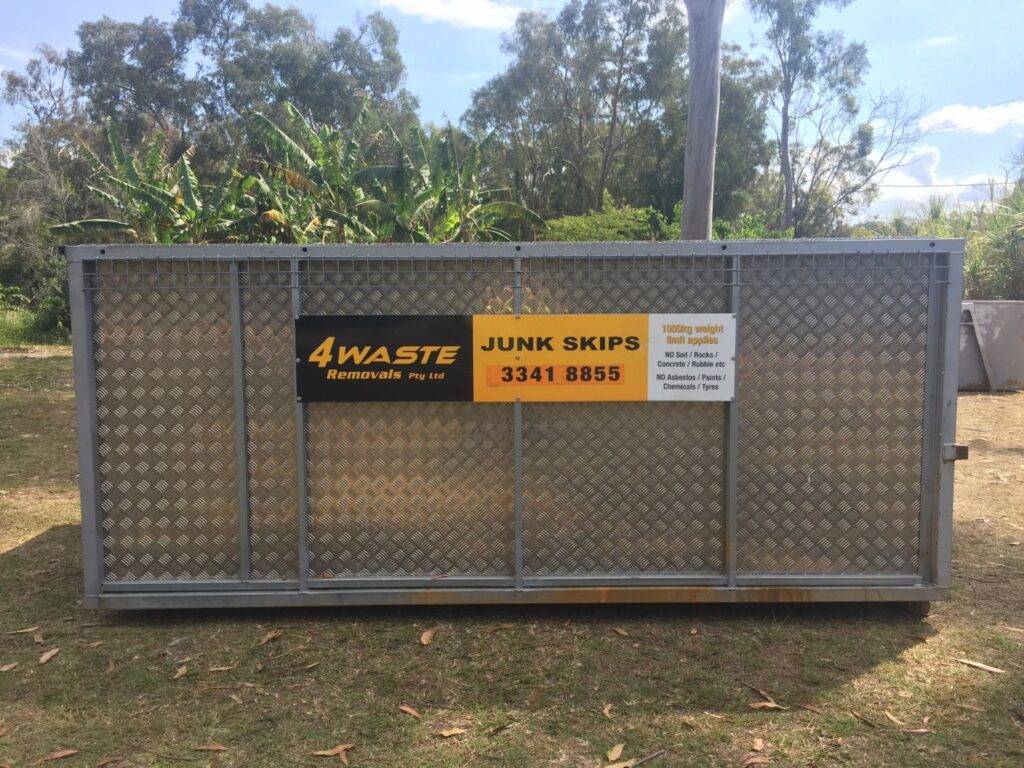 Jindalee has a number of skip bin hire providers. However, when looking for one to hire from, consider the following: Is it possible to walk into their skip bins for easy loading? Can you keep filling their skip bins if you hire a skip that is too small for your garbage? Do you have faith that the skip bin provider will deliver the skip bin on the specified day and time?
Each of these questions is answered affirmatively by 4 Waste Walk-In Skip Bins.
At our business, we pride ourselves on providing our customers with the best possible service. One way we do this is by offering our unique walk-in skip bins. These bins are designed to make loading quick and easy, with no need for lifting or walking rubbish into the bin. They're perfect for disposing of furniture! Additionally, our billing structure is different from other businesses. Rather than ordering a skip bin of a particular size and receiving one of that size, we supply a six cubic metre skip bin regardless of the size skip purchased. This means you can be sure you're getting the most bang for your buck!
If you're looking to clear out some rubbish, our skip bin hire service is the perfect solution. We have a range of sizes to choose from, so you can find the perfect bin for your needs. And if you have more rubbish than you anticipated, don't worry – you can simply continue filling the bin. We will only charge you the difference, which represents a significant discount compared to ordering two or more bins. So why not give us a call today and get rid of that rubbish once and for all?
Hire Skips in Jindalee Today
If you're looking for a convenient, hassle-free way to get rid of all the junk that's been cluttering up your home, look no further than 4 Waste. As Jindalee's preferred skip bin hire service, we offer an affordable and reliable solution for all of your rubbish removal needs.
Whether you need to get rid of garden waste, household junk, or general rubbish, our skip bins are the perfect solution. Prices start at just $275.00, and our innovative walk-in design makes it easy to load up all the junk you want to get rid of.
So don't wait any longer – hire a skip from 4 Waste today!
Order a Skip Bin Today!
Use the booking form below to hire Skip Bin Hire Jindalee from 4 Waste Removals.