Get rid of rubbish and junk with Mansfield's best skip bins; 4 Waste Walk-In Skip Bins. There's simply no better skip bin hire in Mansfield than our easy and affordable skip bins.
Locally owned and operated, 4 Waste Walk-In Skip Bins offers the best skip bin hire in Mansfield and the surrounding Brisbane Southside suburbs. If you live in Mansfield or the surrounding suburbs of Carindale, Carina, Carina Heights, Camp Hill, Holland Park, Mount Gravatt, Upper Mount Gravatt, Wishart, and Rochdale, and have a tone of crap to get rid of, we can help! Our cheap skip bin hire service is an affordable and convenient rubbish removal option, ideal for getting rid of the unwanted crap lying around your home and property!
Mansfield's BEST Skip Bins
We may be biased, but we believe we have the best skip bins in Mansfield. After you hire one of our skip bins, you may very well too! Our skip bins are unlike any other skip bins in Mansfield. See the difference between our skip bins and traditional skip bins here.
Our skip bins have a strategic design to provide walk-in access, making them incredibly easy to load. There's no straining to lift heavy items over tall skip walls. In fact, there's no need to lift at all. With our Mansfield skip bins, you can effortlessly wheel large and heavy items into the belly of the skip bin using a trolly or wheelbarrow. This is something to boast about!
Moreover, we don't charge any more for this added convenience. Our skip bins are priced on par with other Mansfield skip bin hire companies, which is why ours are the best. Same price, yet much easier to use! Doesn't that sound good?  View our pricing structure here.
Hire Mansfield's best skip bins from 4 Waste today and experience how easy a major clean-up can be.
Multi-purpose Skip Bins in Mansfield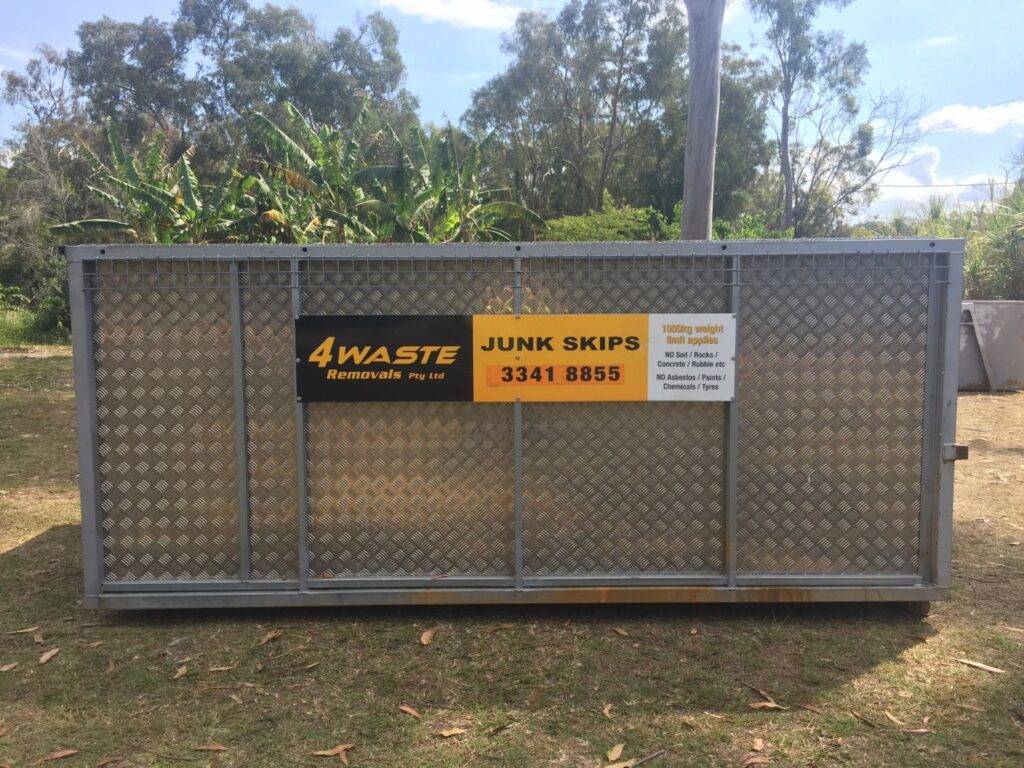 Skip bins are the best option when it comes to removing large quantities of rubbish from a property. They're great for removing all sorts of things, not just household junk but also light renovation waste, belongings from deceased estates, and green waste.
Our junk skip bins are ideal for removing household junk such as old furniture, electronics/e-waste, white goods, and sporting equipment. They're also great for small renovation projects and mixed waste (junk and green waste). If you have something too big or too heavy for the wheelie bin, then a skip bin is the next best option.
Our junk skip bins are very popular in Mansfield, as are our garden skip bins, which provide an environmentally friendly option for removing large volumes of green waste. Such waste includes the likes of grass clippings, palm fronds, tree branches, etc. – everything you're left wondering how to remove after a big day in the garden. Learn more about our green waste bins here.
Whether you have household junk or garden waste to remove from your home or property, our walk-in skip bin hire service provides the perfect solution.
Click here to View Our Skip Bins
4 Waste Skip Hire Pricing
Aside from our skip bins' unique walk-in design, we offer a different pricing structure to others providing skip bin hire in Mansfield. While it's standard to provide a fixed price per skip bin size, we offer a fixed-size skip bin and a flexible price, and we believe this to be far more beneficial to customers.
Our skip bins have fill levels marked at each cubic metre. These levels allow customers to track their costs. This format becomes very beneficial when you may have ordered a skip that is too small for your needs, which is a common occurrence. Rather than the additional cost and inconvenience of hiring a second skip bin, you can simply continue to load the skip. You're charged only for the difference, which is substantially cheaper than a second skip bin.
Click here to View Our Skip Bin Prices
Hire a skip in Mansfield Today!
If you're ready to get rid of your crap for good, and in the most effortless, most convenient manner possible, call Mansfield's best skip bin provider.  Call 4 Waste Walk-In Skip Bins on 0413 333 330 or place an order via our secure online booking form.
Order a Skip Bin Today!
Use the booking form below to hire Skip Bin Hire Mansfield from 4 Waste Removals.